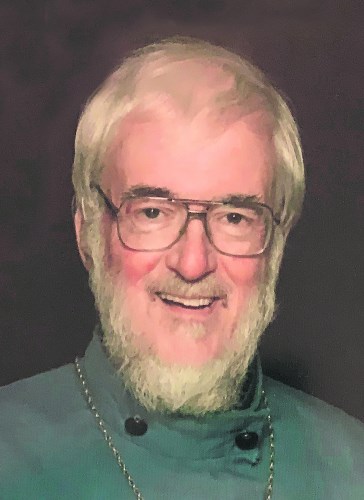 Rev. Fr. James J. Laliberte
December 12, 2020
Rev. Fr. James J. Laliberte The Reverend Father James J. Laliberte, 84, of Cumru Township, passed away December 12, 2020 at the Mifflin Center where he was a guest since November 3rd.
He was the husband of Angela B. (Apsokardu) Laliberte. They celebrated 58 years of marriage. Born in Quebec City, Quebec, Canada, he was a son of the late Lucein & Lorett (Douvell) Laliberte. Fr. Laliberte graduated high school in Quebec City, and attended Holy Cross Seminary, Brookline, MA. He was ordained a priest in 1962. His first parish was in York, PA where he served for 2½ years. From there he went to Augusta, GE and then to Tallahassee, FL where he served for 10 years.
In 1975 he was called to St. George Greek Orthodox Church, Media, PA. When he started there, they were in the midst of building their new church. He served for 27 years before retiring in 2001. He took to heart the spiritual health of his congregation everywhere he served, and this was manifest in his selfless ministry.
He continued to serve as a priest until his health declined. He will be loved and missed by all who knew him.
Surviving in addition to his loving wife are his children – Barbara O'Malley, Upper Darby, PA, Thecla McCool, Lindenwold, NJ, Mark Laliberte husband of Sandra, Glen Mills, PA, his granddaughters – Tatiana Dudrick, Newark, DE, Sharon McCool, NJ, Alexis & Alana Laliberte, Glen Mills, his great great grandchildren – James & Brie. In addition to his parents, he was predeceased by his brother Claude and his sister Louise.