Happy 246th Birthday of
The United States of America
Sunday of
All Saints of Pennsylvania
In today's gospel from Matthew 6:22-33, Jesus exhorts us that the, "eye is the lamp of the body", if your eyes are healthy then your life will be filled with light, but if they are unhealthy then your life will be full of darkness.
In the second part of the Gospel Lesson, Jesus also tells us not to worry about what to eat, drink or what to wear; rather, He tells us that honest daily work under God's care will be enough for our sustenance.  That we must seek first the Kingdom and His righteousness and all things will be given unto you.
We must remind ourselves to cut down and simplify our lives, we must reorder our priorities.  But even more importantly, we must and need a spiritual perspective on things.  It says, "cast all your anxieties on the Lord, for He cares about you".  For to cast one's anxieties on the Lord, means to trust in God as the One who is there and as the loving Father who cares about us.
It can be simplified with these words, "Lord, You take over," and begin to live both freely and responsibly by faith in God.
St. Alexander Hotovitzky
St. Nikolai Velimirovich
St. Tikhon
St. Raphael Hawaweeny
St. John Kochurov
St. Sebastian Dabovich
St. Vasily Martysz
St. Alexis Toth
St. Alexis Kabaliuk
4th Wednesday after Pentecost
July 06, 2022 | Strict Fast
Daily Readings
---
Epistle:
St. Paul's Letter to the Romans 11:2-12
Gospel:
Matthew 11:20-26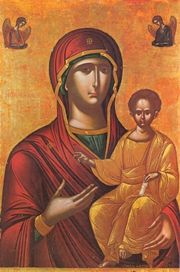 Feasts & Saints
---
Sisoes the Great
Holy Apostles Archippus, Philemon and Onesimus
Loukia the Virgin-martyr, Rixios and the 24 Companion Martyrs
Juliana the Virgin-martyr
Help Support Our Parish
It's easy to donate securely and conveniently online. Thank you for your support.
Glen Mills, PA
Saint Herman of Alaska Orthodox Church
Saint Herman of Alaska Orthodox Church, a parish of the Orthodox Church in America (OCA), is located in Glen Mills, PA serving the Orthodox faithful throughout Southeastern Pennsylvania, New Jersey and Delaware.
Join Our Mailing List
Signup for our newsletter to receive the latest parish news, upcoming events & service schedules changes.