Healing on the Sabbath
We are in the midst of the Nativity Fast and have already celebrated the Feast of the Entry of the Most Holy Theotokos Into the Temple.  The hymns of the Church have already begun to usher in the anticipation of the Birth of the Christ Child.  We hear the words of exhortation that "God is with Us: Understand all ye nations and submit yourselves for God is with Us!"
Today's gospel from the Evangelist Luke chapter 13: 10-17 tells of the healing of the Crippled Woman by Jesus.  In ancient times, people who had physical maladies were thought to have these as a result of demonic possession.  How absurd! Jesus in his ministry often met people who had various physical handicaps.  We can refer to the story of the Blind beggar, the Paralyzed man, the Woman with the issue of blood, the Man with the paralyzed hand and many others.
We know from the Gospels that Jesus did not treat these individuals any different from anyone else; rather, he gravitated towards them in His earthly ministry.  He loved them as He did everyone else. Jesus, as I said, gravitated towards these individuals and approached them not as disabled persons but as persons, individuals, with a disability.  That truly makes a difference!
The reaction of the officials of the synagogue seems to be of utmost importance in this story, for they were scandalized that this women was healed on the Sabbath Day.  Often people of faith (the Church), are shocked, by any good work which is not done according to the rules.  Sometimes people are too swift, as were the synagogue officials, to denigrate and condemn all that is not of their, "orthodoxy".
This story, therefore, teaches us to become humble enough, amenable enough to all "light" from above. To admit, with joy and gratitude, the good that can be done through channels other than those which rightly or wrongly we consider, "proper."
May God make us able, when faced by any "healing on the Sabbath," to feel what the people who surrounded Jesus felt on that day, when the crippled woman was healed!
Help Support Our Parish
It's easy to donate securely and conveniently online. Thank you for your support.
Thursday of the 11th Week
December 02, 2021 | Fast Day (Fish Allowed)
Daily Readings
---
Epistle:
St. Paul's First Letter to the Thessalonians 4:18-5:10
Gospel:
Luke 20:9-18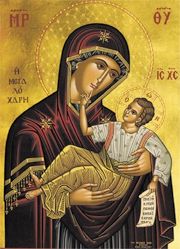 Feasts & Saints
---
Habakkuk the Prophet
Our Righteous Father Cyril of Phileus
Myrope the Martyr of Chios
Porphyrios of Kavsokalyvia
Joannicos the Monk of Devich
Theophilos the Hermit
Glen Mills, PA
Saint Herman of Alaska Orthodox Church
Saint Herman of Alaska Orthodox Church, a parish of the Orthodox Church in America (OCA), is located in Glen Mills, PA serving the Orthodox faithful throughout Southeastern Pennsylvania, New Jersey and Delaware.
Join Our Mailing List
Signup for our newsletter to receive the latest parish news,  upcoming events & service schedules changes.